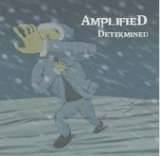 $

5.99
A great produced 3 track debut EP (19,5 minutes), released in 2008.
Amplified has existed since autumn 2006. They combine sweet and harmonic melodies with hardhitting and thrashy deathmetal elements along with a relentless drive and eagerness never seen on the metal scene before. Amplified is all about uniting the fast and vigorous with the distinguished melodic harmony, and to play it with excellence.
http://www.myspace.com/amplifieddk
The band has a great faith in God, this is reflecting the music as well as the lyrics.
- - - - - - -
SHIPPING:
Free CD-shipping if you buy a shirt.
Denmark - 5 US dollar (porto er herefter den samme uanset hvor meget du køber).
Everywhere else - 5 US dollar (2,50 dollar for each CD after this, if you buy more than one).