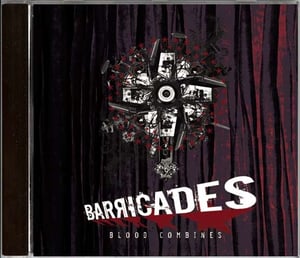 $

9.99 - On Sale
"Blood Combines" is the powerful debut album from Danish metalcore band Barricades, released in March 2007!
12 songs - 52 minutes
w. 16-page-booklet, lyrics, pictures and a hidden surprise.
http://www.myspace.com/barricades
http://www.barricades.dk/
The Barricades members decided to focus their energy in other projects but wanted to put their hearts and souls into a full-length before they parted. And through blood, sweat and sore throats the impressive piece of God-worshipping art, "Blood Combines" was born!
- - - - - - -
SHIPPING:
Free CD-shipping if you buy a shirt.
Denmark - 5 US dollar (porto er herefter den samme uanset hvor meget du køber).
Everywhere else - 5 US dollar (2,50 dollar for each CD after this, if you buy more than one).